Fall is a busy time in Sonoma County. Plan ahead with our weekend-by-weekend, month-by-month collection of popular experiences — from colorful hikes to the perfect pumpkin patch. Your expert guides? Sonoma County writers who offer insider knowledge with pride.
For other ideas, check out our calendar of events.
September
Revel at the River
River Road, as it winds its way from Highway 101 past Guerneville, is a glorious drive in early fall, as recently harvested vineyard blocks begin to turn colors, matched by the hues of the surrounding trees. Taste wines in the beautiful red hop barn at Martinelli Winery, where Sonoma agricultural history is on full display — the family has been growing grapes in the Russian River Valley for more than 135 years. Further west is the charming Farmstand restaurant. If you snag the first seating at breakfast, you might just have the café to yourself as you choose between brioche French toast or a breakfast bowl of black-eyed peas and a poached egg. (Lunch and dinner are also served for the not-so-early birds.) After your meal, you're not far from Steelhead Beach, pretty even in early fall when river levels are expected to be lower. If you've got the energy for one more stop, make it Korbel Winery, which, like Martinelli Winery, dates back to the 1880s. -Allison Gibson
Artistic Byways
You don't have to be a gallery regular to appreciate Sonoma County Art Trails — four days of open studios over two consecutive weekends beginning in late September. Scores of juried painters, ceramicists, jewelers, and others show off their work in private studios, offering the opportunity to see pieces both old and new and ask questions about the artistic process. Many of the artists have intriguing workspaces, and they enjoy engaging with visitors – whether or not a sale is likely. Most offer a range of price points, so don't be intimidated. To help you plan your route, the Sebastopol Center for the Arts publishes a color catalog of participating artists each year, but each artist's work is represented by a single piece, so check out individual websites as well to decide which studios to visit. You could easily fill two weekends! -Mary Callahan
Among the Redwoods
My fear of heights would normally be a reason to turn away from many outdoor activities, but one thing that doesn't trigger it is ziplining. My birthday weekend was spent zipping along a 1,500-foot-long zipline through tall redwoods and growing sequoia trees on a Sonoma Zipline Adventures tour. Maybe it's the tour guide "dad jokes" that came with learning about the forest or the delicious bruschetta at the nearby Union Hotel in Occidental afterward that distracted me from my fear — but it's one of the few activities involving heights that doesn't give me wobbly legs. -Sara Edwards
Build Trails
Sonoma County has some of California's most splendid and stunning parkland, but all those open space acres depend on trail crews to keep them accessible. Volunteers play a key role, and the Redwood Trails Alliance, a coalition of outdoor enthusiasts, is dedicated to putting your helping hands to good use. Circle the fourth weekend of the month on the calendar as they are sure to have a work day planned to mark Public Lands Day. Fellow volunteers make for fast friends and good buddies for your next hiking or biking adventure. You'll also come away with the satisfaction of giving back to places that make Sonoma County and its surroundings so special. Afterward, head for Trailhouse, Santa Rosa's parkside pub, to wash down your good work with one of the local beers on tap. Bonus: No need to change out of your grubbies. -Brett Wilkison
Press Cider
August through October, you can make your own cider at the Sebastopol Community Apple Press. It's run by Slow Food Russian River at the Luther Burbank Gold Ridge Experiment Farm in Sebastopol and has been operating since 2014. Volunteers and donations are welcome, but there's no charge to use the press — just bring apples and containers. Nearby farms have apples for sale, including landmark Gold Ridge Organic Farms, which also sells its own line of olive oil, plus yummy caramels and shrubs from Little Apple Treats. Afterward, continue the apple theme with a stop at The Barlow for a pint of the hard stuff at Golden State Cider and a warm apple melt sandwich with cheddar cheese and a drizzle of wildflower honey from The Farmer's Wife. -Marisa Endicott
October
Ridgetop Drive
I may be an outcast for life after letting folks in on one of the best kept secrets in Sonoma County: Coleman Valley Road. This ribbon of roadway, which begins in Occidental and ends at the coast just a few miles north of the town of Bodega Bay, is a beautiful fall drive, with ocean views for miles from the top of the ridgeline as you wind past pastures with sheep and cows and llamas in plain view — sometimes even blocking your car. Begin a lazy Saturday on the way into Occidental at Marimar Estate, where owner Marimar Torres shows off her Catalan heritage with tastings that pair Spanish wines with housemade tapas. Then follow Graton Road to Occidental to pick up the start of Coleman Valley Road. Just remember … mum's the word. -Peg Melnik
Bike the Geysers
Feeling adventurous? Capable of fixing a flat on your own? Consider a spin, in that case, on remote but gorgeous Geysers Road. While a 42-mile loop is available for the exceptionally fit, we recommend an out-and-back from Cloverdale — preferably after caffeinating at downtown's Plank Coffee. Roll east on First Street, which becomes Crocker Road, then left on River Road, which merges after a mile or so with Geysers. Riding this rugged byway ensures some suffering — you're going gradually uphill, into the Mayacamas — but also kaleidoscopic changes of scenery: Alpine meadows, shaded ravines, the century-old Geysers Road truss bridge around Mile 7, where the serious climbing starts (and where my wife and I prefer to turn around). Back in Cloverdale, replace those calories with soft serve ice cream at Pick's Drive-In or heartier fare at Zini's Diner, with the best French fries in the county. -Austin Murphy
The Best Way to Do Pumpkins
For a fall event that captures the warm-hearted spirit of harvest and the chill of Halloween, it's hard to top the annual Pumpkins on Pikes event at Petaluma's Tara Firma Farms, traditionally held the last two Saturdays of October. Imagine the awe-inspiring visual impact of a horde of pumpkins carved by attendees, then lit from within and mounted on pikes as tall as 7 feet high — it's like witnessing the arrival of a haunted legion. The goal of the farm and institute is to increase public awareness of where our food comes from. Food and drinks are available at the farm, but before you head out, try a grain bowl or a fall lentil salad with roasted delicata squash to go from downtown Petaluma's Lunchette. -Dan Taylor
Golden Fall
Visit Crane Creek Regional Park in late afternoon's golden hour as the sun begins to set and the world slowly recasts itself, the nearby vineyards morphing to even brighter orange and red. As shadows lengthen and the landscape begins to glow, follow the trail east of the parking lot, crossing a small wooden footbridge and then skipping across the creek on rocks. Continue up the Sunset Trail to take in the view of surrounding hills and gnarly old oaks. If you're lucky, you'll see a bird of prey soaring high in the sky, silhouetted against the setting sun. Fully restored after the hike, warm up with a steaming bowl of udon and a glass of sake at Japanese restaurant Shige Sushi in nearby Cotati. Owner Shige Mori brings the flavors and philosophy of his native Japan to the cozy dining room, enveloping guests in the warmth of the season. -Sofia Englund
November
Tribute to Sparky
Tucked away in a quiet corner of Santa Rosa is the Charles M. Schulz Museum and Research Center. Like its namesake, the structure is architecturally modest and subtle. But inside is one of the most dynamic collections of its kind in the world, featuring many of Schulz's 17,897 original "Peanuts" drawings. Yes, you'll see a lot of Charlie Brown, Snoopy, Lucy, and the whole schoolyard gang of friends. But dig deeper and you'll find letters, photographs, and tribute artwork from noted cartoonists who were inspired by the man called Sparky. It's a frequently evolving museum that, yes, pays tribute to Schulz. But it also transports us back to our youth, while illuminating the emotions, failures, inadequacies, joys, unrequited love, and determination we experience as adults. -Richard A. Green
Beach Days
Sonoma's dramatic coast is a welcome destination during those quiet days before the New Year's holiday. Head west on Highway 12 toward Bodega Bay for a beachfront hike in the chilly winter air.
Saturdays are for Football
I'm really into sports, so on Saturdays I prefer watching college football at Ausiello's 5th Street Bar & Grill in downtown Santa Rosa. You can get a booth with your own TV, plus the beer is cold and the burgers are tasty. Owner Armand Ausiello has an outstanding array of vintage sports memorabilia (you could spend 20 minutes just in the bathroom looking at all the cool stuff), and he's so accommodating that he once honored my request to dedicate a whole TV to a meaningless NHL game even though everyone in the place was watching the baseball playoffs. Did I mention the beer is cold? -John D'Anna
Leaf Peeping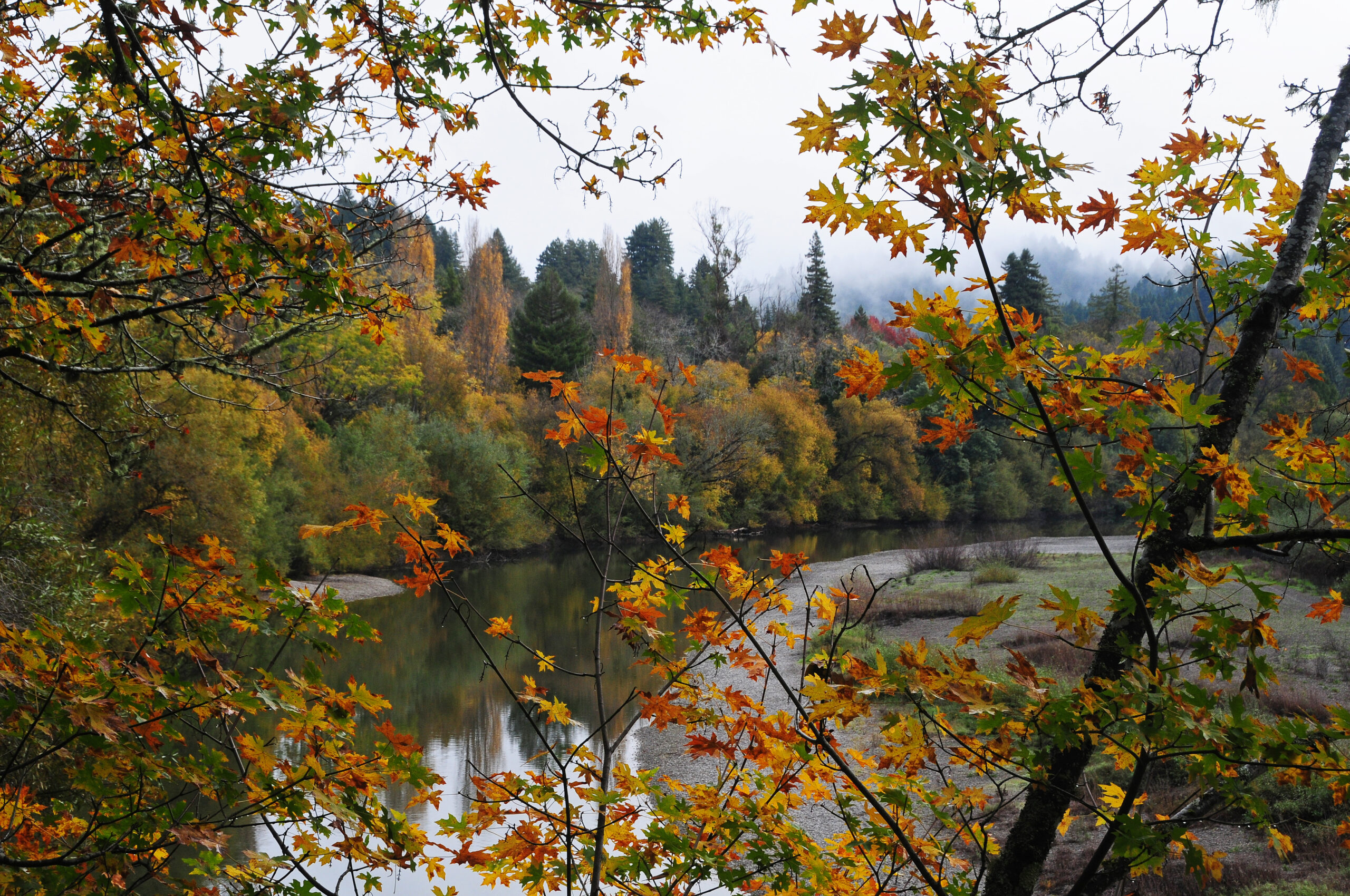 Morning fog settles over the trees at Healdsburg's Riverfront Regional Park, pulling one's attention skyward. From the parking area, you're led briefly through a grove of redwoods before the trail opens up onto a wide main path — the perfect Thanksgiving weekend stroll, no hiking boots needed. The 2.18-mile main loop is flat yet rewarding, providing views of Lake Benoist and tunnels of trees with piles of leaves at their base. At the north end of the trail, a short path leads to a beach along the Russian River. Back at the car, you're just a few minutes' drive away from a slice of Old Grey Beard pizza, with spicy Italian sausage and hot honey, at PizzaLeah in Windsor. -Madison Smalstig
---
Written by Sonoma Magazine Staff